METER PAN TEST SIMULATOR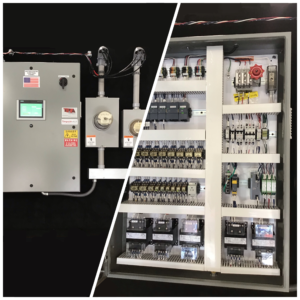 In order to survive in the field and/or reduce risks linemen must be able to think critically & clearly, and solve problems quickly under extreme stress. This can be difficult, so training instructors should do live energized training drills, to give students the opportunity to develop these skills. The overall goal of this behavioral training is to heighten awareness and instill good habits in students through repeated exposure to real-world situations they will find themselves in.
As with all jobs linemen are tasked with, they are dangerous; pulling and plugging in meters is no exception. Linemen are exposed to high fault currents and arc-flash when performing these tasks.
This training simulator was designed to help aid trainees in situations they may experience in the field, from voltage and rotation issues to load side faults. This panel uses Timpson's AST to eliminate the risk of arc-flash while maintaining correct voltages.
What's New?
Meter Pan Test Simulator Released in 2019

Meter Room Simulator debuted at ICUEE 2019 in Louisville, KY!
Voltages

120/240 Single Phase
120/208 Three Phase
277/480 Three Phase
120/240/208-High Leg Three Phase

Rotation

Clockwise
Counter-clockwise

Load Side Shorts

A-B Phase
A-C Phase
B-C Phase
A-phase to Neutral
B-phase to Neutral
C-phase to Neutral

High Leg Switching
FAQs
Q: Do I need a separate panel for each meter can?
A: No, the panel can accommodate all voltages listed on the specifications page.
Q: Can I test on multiple meter cans at one time?
A: No, while you can energize multiple meter cans at the same time, if one trips out it de-energizes all.